As of this posting, this story has not been reported anywhere on any news station, it's only found on a YouTube post by Real World Police
On October 7, 2020, Florida Highway Patrol Trooper Timmy Williams conducted a traffic stop for speeding on Fletcher Avenue and Dale Mabry Highway in Hillsborough County, Florida. Trooper Williams removed his body microphone during the stop. When Trooper Williams asked the Asian female motorist why she was speeding, she replied, in part, that she had just left a job interview at a spa.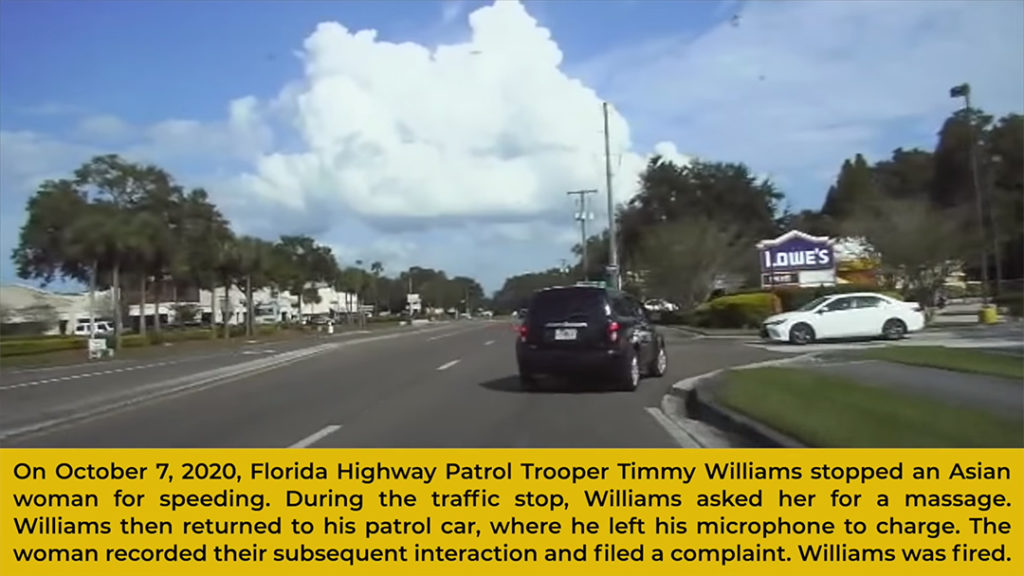 Trooper Williams told the woman that was pretty several times, and inquired as to whether she gave 'other' types of massages. The 'private' type. The woman found Trooper Williams' comments to be inappropriate and sexually suggestive; she was uncomfortable with the situation. That is why, when Williams briefly left her alone to answer another motorist's request for directions, she began recording their conversation with her cell phone.
The woman made it clear that she did not give "sketchy" massages, and that Trooper Williams would need to go elsewhere for them. Trooper Williams took that as an opportunity to clarify: those were the type of massages he wanted. Trooper Williams told the woman that he had experienced both 'types' of massages before. He wanted to know what types of massages she had given.
This was on a traffic stop for speeding.
The woman insisted that she only gave normal massages. Undeterred, Williams told the woman that police officers need the "other" ("sketchy") types of massages, just like anyone else. The woman told Trooper Williams where she worked, and that he could come get a normal massage, but Trooper Williams wasn't going to get distracted that easily: cool story, lady, but he wanted a private massage.
Some acronyms: HSMV is Florida's Department of Highway Safety and Motor Vehicles. FHP is the Florida Highway Patrol, which is a division of HSMV. HSMV has an Office of Inspector General, or OIG.
HSMV OIG Inspector Frank Troffo shines in this video. The video presents otherwise-silent in-car camera footage from the subject traffic stop, along with audio of Inspector Troffo's interview of Timmy Williams, who has an unusual definition of "deescalation."
As you listen to Frank Troffo's interview of Timmy Williams, it is worth noting that Florida's version of the law enforcement officer's bill of rights provides every police officer in the state with the right to receive a copy of all of the evidence against them prior to being questioned in an administrative investigation. There is no surprising a police officer with contrary evidence during an interview. It's against the law.
So what does that mean? It means Timmy Williams had already heard the driver's audio recordings. He had copies of the complaints. This is the guy prepared.
Timmy Williams was fired. He appealed his termination to another acronym: PERC, Florida's Public Employees Relations Commission. The Commission order affirming Williams' termination is at the end of this video.
Florida Highway Patrol Investigation…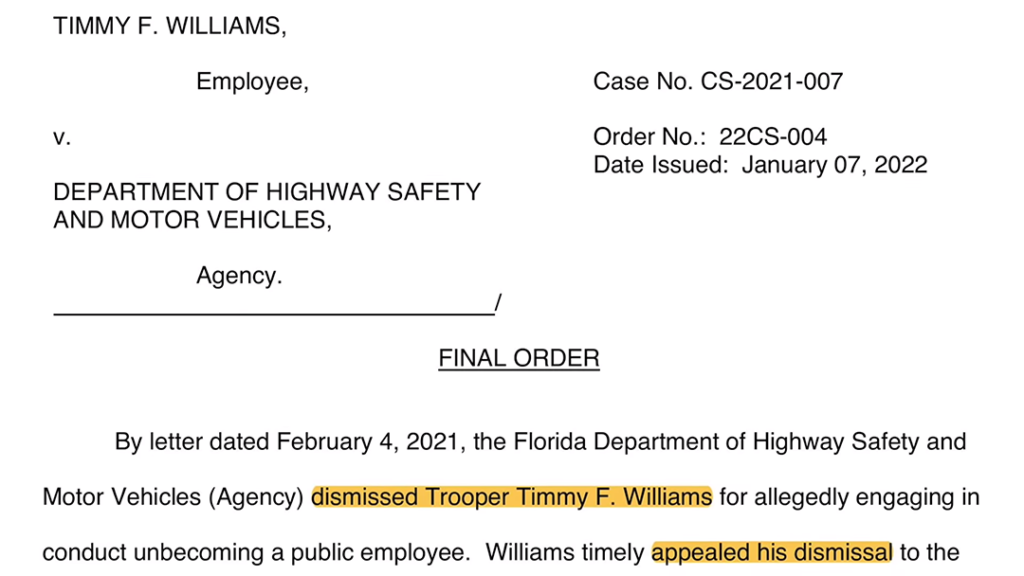 Copwatcher App Editor's Note:
We were shocked to find the only story on Google about Trooper Timmy Willimas was a tweet by the Florida Highway Patrol highlighting his work with kids…
Florida Highway Patrol Trooper Tim Williams participated in career day at Independence Academy in Dover, FL. Trooper Williams discussed bicycle and seatbelt safety with the students.

👮
Safety Tip: Always wear your helmet the right way so it will protect you.#SafetyEducation pic.twitter.com/DkkvgJHmq1

— FLHSMV (@FLHSMV) November 16, 2019
As of March 2022, it sounds like Tim Williams is applying to be a perverted janitor at a sketchy massage parlor.
His LinkedIn About section reads… "To obtain a rewarding and challenging position from an organization that allows me to use acquired skills from work and life experience and provides opportunities for further development to grow within the organization."
As of this posting, this story has not been reported anywhere on any news station, only on Real World Police, so subscribe to their channel to be better informed.
At first glance of our Google search, it appeared Timmy Williams was required to register as a sex offender, however, upon closer examination, we realized Timmy is not the same person as Florida registered sex offender Timothy Williams.
Our search then appeared to reveal Tim Willimas as a "gypsy cop" in a news article about a Georgia State Trooper who was fired for 'false statements and writings'.  A gypsy cop, also known as a wandering police officer, is a cop who frequently transfers between police departments, having a record of misconduct or unsuitable job performance. The term is slang, referencing the stereotypical nomadic lifestyle of the Romani people, pejoratively "Gypsies".  – Wikipedia
However, upon closer examination, we found no resemblance to this Trooper Timothy Williams who was fired from the force and booked into the Whitfield County Jail on charges of 'false statements and writings'.