NASHVILLE, TN – At approximately 2:00 PM Thursday, January 27 a Tennessee Highway Patrol trooper saw a man, identified as 37-year-old Landon Eastep, on the shoulder of Interstate 65 northbound at mile marker 76. The trooper stopped to talk with him, and as the exchange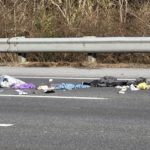 escalated, Eastep produced a box cutter. Approximately 30 minutes later the man appears to adjust his stance and reach for what was later identified as a metal cylindrical object at his waist. At least nine law enforcement officers shot Eastep, who died at the scene. No cops were injured in the incident.
The shooting sparked widespread scrutiny and prompted swift responses from Nashville Mayor John Cooper and Nashville Police Chief John Drake.
Listen for the last two shots, where they fired late? Was it overkill?
MNPD Officer Brian Murphy, a 25-year veteran of MNPD, was stripped of his authority pending an investigation and review of his actions at the scene. Murphy fired the final two shots Thursday, according to an MNPD news release. In a meeting with his deputy chiefs that afternoon, Drake directed Murphy be decommissioned, meaning he loses his police authority.
**WARNING**GRAPHIC**CONTENT**
**WARNING**GRAPHIC**CONTENT**
**WARNING**GRAPHIC**CONTENT**